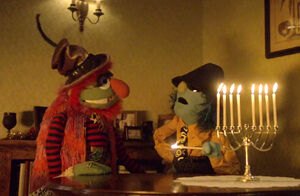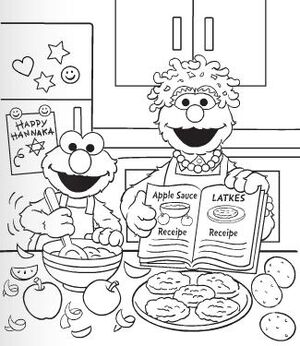 Hanukkah (also romanized as Chanukah), sometimes known as the Festival of Lights, is an eight day Jewish holiday which may occur from late November to late December.
The festival is observed by the lights of a special candelabrum, a Menorah, upon which one candle is lit on each night of the holiday. The holiday is considered a primary holiday with the Christmas and holiday season in the United States.
The holiday had been featured in the Elmo's World special Happy Holidays! where all the holidays of the season, including Hanukkah, Christmas, and Kwanzaa are shown.
In the 1990s version of Shalom Sesame, show 6 deals with the history of Hanukkah, and its celebrations. The holiday is also the subject of show 2 of the 2010s version of the program.
Like Christmas, Hanukkah has many songs associated with the holiday, including "I Have a Little Dreidel", and "Oh Chanukah". Adam Sandler became an unlikely addition to the group with his "The Chanukah Song" (which itself was spoofed on Saturday Night Live with Jimmy Fallon playing Sandler and adding Mr. Snuffleupagus to the list of Jewish Celebrities referenced in the song.)
Just as Thanksgiving has its turkey and Easter has its colored eggs, Hanukkah is not without its customary foods. Among the foods associated with the Holiday are Latkes, or potato pancakes, and jam filled doughnuts.
References
The Sesame Street coloring book Celebrate! features Hanukkah celebrations.
Productions
Community content is available under
CC-BY-SA
unless otherwise noted.