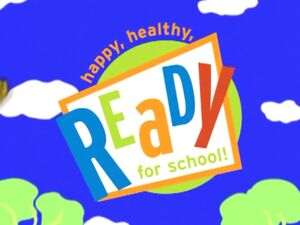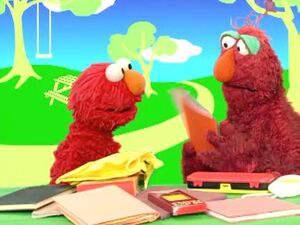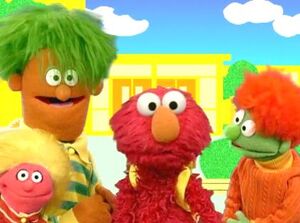 Happy, Healthy, Ready for School is an 18-minute resource video produced by Sesame Workshop in 2004, with support by PNC Bank. The video shows Elmo getting ready for his first day at preschool.
Plot
Elmo is in the park getting ready for his first day of preschool. Telly and Rosita are busy helping Elmo get ready by loading him up with all the supplies he'll need. When the trio runs into some problems preparing they are soon greeted by the Readys - Ready Betty, Ready Eddie and Ready Stan. The Betty, Eddie and Stan help Elmo get ready through song. First they teach Elmo, Telly and Rosita about the importance of a good breakfast, and a good night sleep. Eddie shows a film of two young boys named Lucas and Matthew and his family eating their breakfast and brushing their teeth.
The Readys then sing Elmo on his way to school. Elmo and the gang soon arrive at Sunny Days School. Elmo is excited but soon gets scared when Telly has to go to advanced triangle class and Rosita leaves him for her music class. Elmo feels alone and so the Readys pop in to tell Elmo about what to expect in the classroom. Stan then shows a film of Payton arriving for his first day at school and getting involved in the class.
Elmo then enters the classroom and admires all the letters, number and shapes on the wall and gets excited. The Readys jump in to sing about the things Elmo will learn and experience at school. Elmo shows Betty how smart he already is by counting the students in the class, and shows Stan that he already is ready for school because he knows the letters of the alphabet. Betty then shows a film of kids getting ready for school by practicing their letters, colors, shapes, sorting and measuring skills.
Elmo now feels ready for school and sings with the Readys and the whole class about how to get ready for school. The Readys job is done, and so they leave to help a flower get ready for spring. Elmo thanks the viewer for watching and introduces himself to the class meeting Luca, Rico, Tony, Rico, Jan, Rico, Mrs. Danni and Rico.
Credits
Cast
Also featuring: Pam Arciero, Jim Martin and Paul McGinnis
Release
The video was released as a non-commercial resource video on VHS in 2004. In 2006 the full video was made available as a free video download from Sesame Workshop via the iTunes Store as part of the Learn Along with Sesame series. It is also available for viewing on Sesame Workshop's official website (video).
Community content is available under
CC-BY-SA
unless otherwise noted.