Music by
Patty and Mildred Hill
Lyrics by
traditional
Date
1893
Source
original words were "Good Morning to All"
The classic birthday song "Happy Birthday to You" has been sung by the Muppets on several occasions.
The Muppet Show
Sesame Street
In Episode 0796, Maria sings one line of the song to David after she gives him a typewriter that she repaired especially for him.
In Episode 1316, guests at Maria's surprise birthday party perform the song in English and Spanish.
Bob teaches multiple characters how to sign the song to surprise Linda on her birthday in Episode 3806.
In Episode 4923, the song was spoofed as "Happy Earth Day to You".
International Sesame Street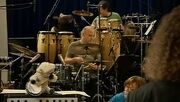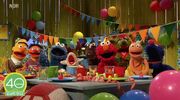 Others
Community content is available under
CC-BY-SA
unless otherwise noted.