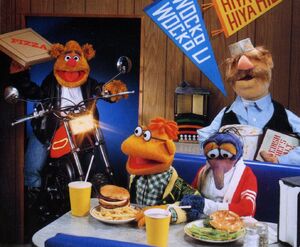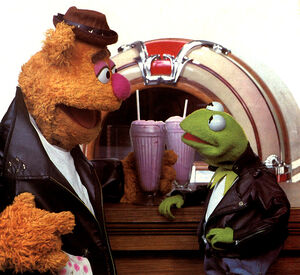 Happy Days is a sitcom that was broadcast on ABC from 1974 until 1984, which focused on life in Milwaukee around the 1950s and 60s. The series launched several spinoffs, notably Laverne & Shirley and Mork & Mindy.
The show's stars, Arthur "The Fonz" Fonzarelli (played by Henry Winkler) and Richie Cunningham (played by Ron Howard) appeared in sketches on Sesame Street beginning in 1977.
References
The Fall 1983 issue of Muppet Magazine features Winkler on the cover with Fozzie and Kermit in leather jackets. For his interview "Fozzie Meets The Fonz", Fozzie says the jacket is a tribute to Winker's Happy Days character and allegedly has "The Foz" printed on the back (although it's unseen). The interview discusses Winker's eleven years film the show, and the accompanying photography is stylized to mimic Happy Days with a jukebox and soda fountain.
At the beginning of the Sesame Street song "Do the Wash", a boy hits a washing machine to get it to start running, much like the Fonz would hit the jukebox at Arnold's to get it to work.
The official Facebook page for The Muppets posted a photo on August 19, 2015 of a coffee shop barista who got Fozzie's name wrong, confusing it with Fonzie.
Connections
Sources