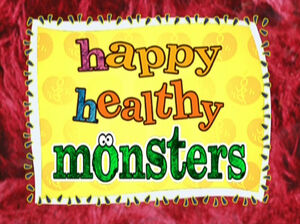 Happy Healthy Monsters is a 2005 Sesame Street direct-to-video release, and part of Sesame Workshop's "Healthy Habits for Life" initiative.
Elmo and Zoe watch and jump along to the Happy Healthy Monsters Network, hosted by Grover and his exercise assistants, Bobby and Sissy. The network airs Grover's exercise show "Fuzzy and Blue, and Healthy Too!" and segments promoting exercise and healthy eating habits. Guest stars include Fred Willard, Andy Richter, India.Arie, and Wyclef Jean.
Segments
Image
Segment
Description




FRAME 1
An announcer (Fred Willard) presents the Happy Healthy Monsters network. A chorus of AM Monsters (including Googel, Narf, and Phoebe with an altered design) sing a jingle about how they stay happy and healthy. The announcer teases the next program, Fuzzy and Blue and Healthy Too. Elmo is seen watching the network on a Nologo TV in a living room, and he calls in Zoe and some kids as the show begins.




FRAME 1 cont'd
Host Grover, backed by Bobby and Sissy, sing the show's theme song: an aerobic disco version of "Fuzzy and Blue." Grover and friends first do some warm-up exercises, which include marching in place and stepping side-to-side. Elmo, Zoe, and the kids follow along. Then, Grover begins the workout proper with an "uppy-downy" movement. Bobby and Sissy help better explain and demonstrate jumping. Grover then calls for music, and everyone hops along to a jumping song. Grover eventually tires out, and Bobby and Sissy call for a commercial break.

FRAME 1 cont'd
A voiceover (Jennifer Barnhart) directs the viewers to jump to help strengthen muscles and bones.

Film
The letters J-U-M-P jump to a song.
(First: Episode 3528)




FRAME 2
Bobby and Sissy explain that, like other muscles, the heart can get super strong from jumping. Andy Richter shows the viewers the places where they can feel their heartbeat. Bobby instructs Andy to jump around at a fast pace to attain a faster, and stronger, heartbeat. A worn-out Andy rests his arms on top of Bobby and Sissy. The announcer mentions that this portion of the program is presented by The Jumping Council.

Song
Dan Zanes and friends sing "Jump Up."
(First: Episode 4064)




FRAME 3
Grover reveals that he's always dreamt of jumping over the moon, like the cow from "Hey Diddle Diddle," and now he finally feels the gusto to try it. He has the viewers jump to the moon with him, but they're unsuccessful. Grover thinks they can jump like a cow if they copy smaller animals first. Grover observes animals that he refers to as the "hopalong" (frog) and the "pouchiroo" (kangaroo), and he and the viewers imitate their jumping motions. Grover moves on to a real cow, which, to his frustration, doesn't jump at all.




FRAME 3 cont'd
The world-famous cow from "Hey Diddle Diddle" arrives and clarifies that she's the only one of her kind who can jump. Grover pleads with the cow to teach him her ways, so she shows her jumping technique and busts through the ceiling of the studio (which Grover points out is rented). He calls for another break while they wait for the cow, who quickly lands on top of him, having not jumped high enough to make it to the moon.

Muppets / Celebrity
India.Arie sings a jumping song and is joined by some wild animals; a rabbit (Barnhart), a frog (Kevin Clash), a monkey (David Rudman), and a jump-happy elephant.

FRAME 4
The AM Monsters return for another station break and demonstrate the motions spoken by the announcer.




FRAME 4 cont'd
Grover is hungry for a healthy snack and goes to see the show's cook, who turns out to be Cookie Monster! Despite Cookie being fuzzy and blue, Grover is doubtful of his healthy-eating prowess due to his history of primarily consuming cookies (shown via a clip montage in a thought balloon). Cookie proves him wrong by showing him a video.

Muppets / Celebrity
Cookie Monster and Wyclef Jean sing "Healthy Food."
(First: Episode 4085)




FRAME 5
Grover is impressed, and Cookie proceeds to unveil today's healthy snack: a glass of milk (Barnhart). The milk lists her salubrious benefits, while Cookie can barely contain how quenched he is for the refreshing beverage. Grover points out that jumping has similar healthy values. Jumping comes easy for the milk, as she came from a world-class jumping cow. Cookie finally exclaims "COW-ABUNGA!!!" and chases after the milk. Soon after, the cow falls on Grover again in another attempt to get to the moon. Grover chides the cow for her crash-landings, and then he gets trampled when she joins the chase. Elmo, Zoe, and the kids are seen drinking milk while the announcer segues to another break.

Film
Chundo, one of Wegman's dogs, drinks milk from a glass.
(First: Episode 3545)
(new sound effects added)

FRAME 6
Bobby and Sissy hype the nutritional value of several foods, which magically pile up in Andy's arms. Bobby also mentions legumes, which rain on Andy every time he says the word.

FRAME 6 cont'd
Cookie Monster promotes fruit, and demonstrates its use by gobbling gobs of it (underscored by Mozart's Piano Sonata No. 11).

Song
Joe Raposo sings "What Do You Do With a Fruit?"
(First: Episode 2050)
(new borders added)




FRAME 7
Grover, Bobby, and Sissy are back to move and groove some more. Grover tries to jog his memory of exercises, which inadvertently gives them the idea to jog in place. Next, they pretend to swim, and Grover shows off his swimming motions until he injures himself on his dive. They then move on to dancing and do some wild dances. Grover starts a conga and works in some jumping. The jumping cow joins in their conga line and accidentally steps on Grover's feet. Grover holds up his foot in pain and falls over, which Bobby and Sissy copy as a dance. As Grover cues another break, he yells for the cow to be kicked out. Offended, the cow shows herself out, bumping into Grover in the process.

FRAME 7 cont'd
Bobby and Sissy recommend other "super good" body exercises. Andy adds another: playing tag!

Animation
Fran Brill narrates as two "couch potatoes" go outside and get moving.

Montage
Clips from Sesame Street and sports stock footage are set to the "Ride of the Valkyries" with the slogan: "Just move it!"




FRAME 8
Grover finally concedes that he won't be jumping over the moon anytime soon, as he's too tired anyhow. Luckily, he'll be showing the viewers how to exercise their minds while resting their bodies. He instructs them to sit still, close their eyes, and envision outer space.




FRAME 8 cont'd
Grover, Elmo, Zoe, and the kids sing about the planets, moon, and stars as they imagine floating amongst them.




FRAME 8 cont'd
Grover feels proud that he could finally jump over the moon, even if just in his imagination, and he congratulates the viewers for completing the workout. As Grover signs off, the jumping cow falls, this time not landing on Grover, and mentions that she was giving lessons. Her students, Bobby and Sissy, land on Grover instead. Elmo turns the TV off and rallies the others to go outside and get some exercise.
Releases
DVD Chapters
Happy Healthy Monsters Network
Fuzzy and Blue, and Healthy Too!
Learning to Jump
Jump to the Rhythm
Jump at the Beach
Heart Smart with Andy Richter
Jump Up Song with Dan Zanes
When Animals Jump
Jump with India.Arie
Chef Cookie Monster
Healthy Foods with Cookie Monster and Wyclef Jean
The Milk Expert
Food for Thought with Andy Richter
More Fun Ways to Move
Super Ways to Move with Andy Richter
Couch Potatoes
Bonus features
Chef Cookie Game
Healthy Foods Coloring Sheet DVD-ROM
Sesame Street shorts: Let's Talk About Healthy Foods!, Cookie Monster's Food Song, Dancing With Elmo!
Cast
Starring The Muppets of Sesame Street:
Credits
Executive Producer: Arlene Sherman
Producer: Dionne Nosek
Directed by Victor DiNapoli
Written by Christine Ferraro
Co-Producer: Kevin Clash
Line Producer: Deborah Mayer
Music Director: Mike Renzi
Production Designer: Victor DiNapoli
Costume Designers: Bill Kellard
Senior Muppet Consultant: Kevin Clash
Jim Henson's Muppet Workshop: Jason Weber, Michelle Hickey, Andrea Detwiler, Rollie Krewson, Jane Pien, Sarah Luraschi, Connie Peterson
Associate Directors: Leslie Williams, Ken Diego
Sound Effects: Dick Maitland
Music Coordinator: Danny Epstein
Composers and Lyricists: David Axlerod, Chris Cerf, Christine Ferraro, Tom Judson, Stephen Lawrence, Robert Merkin, Jeff Moss, Joe Raposo, Mike Renzi, Dan Zanes
Segment Producers: Lucy Blackwell, Arthur Elgort, William Wegman, Mo Willems
Technical Director: Tom Guadarrama
Audio: Blake Norton, Carla Bandini-Lory, Mel Becker
Camera: Frank Biondo, Jimmy O'Donnell, Jerry Canel, Kevin Burke, Larry Solomon
Utilities: Gordon Price, Chuck Tutino
Set Decorator: Lyndon Mosse
Prop Shopper: Melissa Creighton
Vice President, Sesame Street Research: Rosemarie T. Truglio, Ph.D.
For The Jim Henson Company: Jill Colley, Janelle Courts, Joey Roddy
For Sesame Workshop: Fay Corinotis, Alicia Durand, Pam Hacker, Meredith Halpern, Ray Hammerman, Heather Hanssen, Ellen Lewis, Sharon Lyew, Peter MacKennan, Valerie Mitchell-Johnston, Tamra Seldin, Richard Siegmeister
Taped at Kaufman Astoria Studios
See also