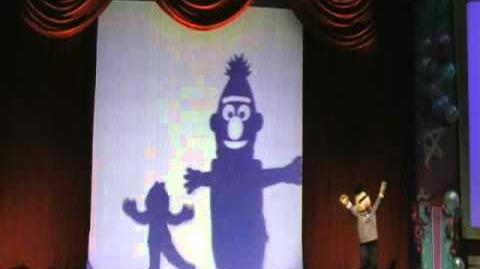 Happy Surprise is a live Sesame Street attraction at Universal Studios Japan. The show premiered in February, 2011.[1]
The show introduces a "new friend from Sesame Street", a pink monster with light purple spots that only appears at the Universal Studios Japan theme park. The new monster's name is Moppi, and is described in oddly translated Japanese on one site as being "connected to the left heart in hearts, the dream of a star on the right mark."[2] Moppi first appears in Elmo's mirror, and Elmo invites Moppi out to meet his friends.
Part of the show involves learning the dance to USJ's official 10th anniversary song, "GOOD LUCKY!!!!!" by popular Japanese pop group GReeeeN. In another section, Ernie and Bert appear behind a screen with shadow puppeteers to make surprising images of animals.

Sources
↑ USJ press release, "Lots of "Happy Surprise!" in Universal Studios Japan® in its 10th Anniversary year!" February 19, 2011.
↑ "Sesame Street characters also appear in a new program anniversary Hiraku Kimi USJ10", Japanese-entertaiment.blogspot.com. March 1, 2011.