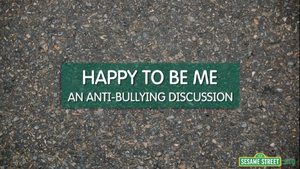 Dr. Rosemarie Truglio, Vice President of Education and Research at Sesame Workshop, hosts Happy to Be Me: An Anti-bullying Discussion, a discussion about dealing with bullying. The five-part discussion was posted on YouTube and sesamestreet.org in October 2011. Part four of the discussion features a conversation with Big Bird, Rosita and Blue Jay. The discussion and related materials were created along with Episode 4265 of Sesame Street to promote anti-bulling awareness.
Panelists in the discussion include Dr. Catherine Bradshaw, Deputy Director of the Johns Hopkins Center for the Prevention of Youth Violence; Mia Doces, Curriculum Developer at the Committee for Children; Trudy Ludwig, Children's Advocate & Author of My Secret Bully and Confessions of a Former Bully; Dr. Jamie Ostrov, Associate Professor of Psychology at University at Buffalo, The State University of New York and Dr. Joseph Wright, Senior Vice President of the Child Health Advocacy Institute.
Big Bird, Blue Jay, and Truglio also made appearances on FOX News and CNN in the fall of 2011 to discuss the anti-bullying initiative and episode. Chris Colfer and Elmo also appeared in an anti-bullying PSA produced as part of the initiative.
See also
External links