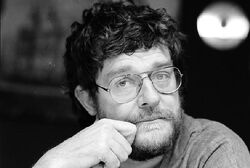 Animator, (screen)writer, translator, composer, poet, and director Harrie Geelen (b. 1939) served as a song and dialog translator on Sesamstraat, the Dutch co-production of Sesame Street.
He studied Dutch language and literature in Amsterdam, where he met his future wife, writer Imme Dros, for whom he illustrated several children's books.
Sesamstraat actor Frank Groothof asked Geelen to help him adapt operas like 'Carmen' and 'Don Juan'. Together they turned several pieces into their very own versions, just loosely based on the original operas. Their very own adaption of 'Fidelio' received an international award. In addition to this, Harrie Geelen wrote song texts for many Dutch performers such as Adèle Bloemendaal and Lex Goudsmit.
Geelen's non-Henson work includes translating Disney movies into Dutch, illustrating dozens of books, and writing children's TV classics like Oebele (1968-1971), Hamelen[1] (1972-1976), and Q & Q (1974-1976).
Sources
↑ Better known by its full title Kunt u mij de weg naar Hamelen vertellen, mijnheer?