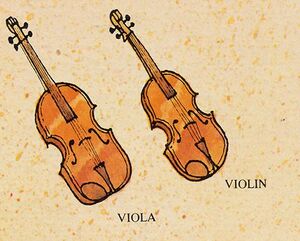 Harry Cykman (1921-1994) was a violinist who played on Sesame Street records, such as Big Bird's Birdtime Stories and The People in Your Neighborhood (both 1980). On the 1981 story album Big Bird Discovers the Orchestra, Cykman played for Victor Vivaldi, the violinist (sharing violin duties with Diana Halprin).
Cykman was a child prodigy, making his debut as a violinist in 1930 (at age 9, but for promotional purposes, a year was shaved from his birth date). He went on to studio with the noted violinist Efrem Zimbalist. In 1942, Cykman played a minor role in a stunt for the radio game show Truth or Consequences. When a contestant missed a question, her "consequence" was to be hustled to a concert hall where a concert by a great European violinist had been advertised by producers in advance. After the contestant (who had never played in her life) gamely tried, an actual concert for the benefit of the audience followed, delivered by Harry Cykman.[1] He continued to play classical music on local New York radio stations and performed paying concert dates, including Carnegie Hall.
Despite his classical roots, as a working session musician, Cykman was often heard on jazz recordings, including those of organist Shirley Scott, trumpeter Freddie Hubbard, Billie Holiday, and saxophonist Grover Washington, as well as Judy Collins (1975's Judith), composer Don Sebesky, and Rupert Holmes (in his 1974 debut album, Widescreen). He was also heard on Christmas in the Stars, the Star Wars Christmas album. By the 1970s, Cykman was a frequent violinist in the pit of Broadway shows, including Jesus Christ: Superstar, The Wiz, Shenandoah, The Night That Made America Famous, and the one-night only benefit Sondheim: A Musical Tribute. For film, Cykman was heard on the soundtracks for Harry and the Hendersons, The Dead Pool, and Star Trek IV as well as TV's Star Trek: The Next Generation.
Sources
↑ Newsweek. Vol. 19. 1942
External links
Community content is available under
CC-BY-SA
unless otherwise noted.