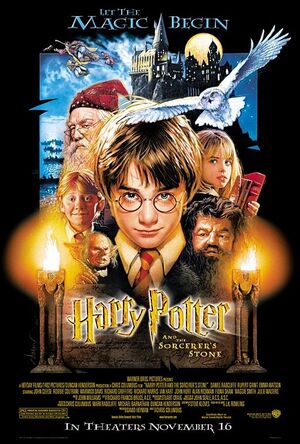 Harry Potter and the Sorcerer's Stone is the feature film version of the first novel of J.K. Rowling's record-breaking Harry Potter franchise. Jim Henson's Creature Shop supplied creature effects for the film.
Harry Potter and the Sorcerer's Stone is the introductory story of Harry Potter, known to the wizarding community as "The Boy Who Lived." To his adopted family, the Dursleys, he's known simply as a nuisance and they lock him in a cupboard and try to keep him from discovering any of his wizarding history. When mysterious letters from a school known as Hogwarts School of Witchcraft and Wizardry begin arriving, the Dursleys try desperately to keep them from Harry. Then, however, Harry meets a large man known as Rubeus Hagrid, who reveals to him the secrets of his past and spirits him away to Diagon Alley to begin preparing for school.
Once at Hogwarts, Harry Potter quickly learns that he's a legend among his both adult wizards and his own peers. He finds both enemies (Draco Malfoy and his cronies) and two close friends --- pure-blood wizard Ronald "Ron" Weasley and Muggle (non-wizard) born Hermione Granger. He finds a powerful ally in the school's headmaster, Professor Dumbledore. He also finds danger, in the form of the growing threat of the nemesis Lord Voldemort, the one who killed his parents, and known to the Wizarding community as "He Who Must Not Be Named."
Major Cast
External Links
Community content is available under
CC-BY-SA
unless otherwise noted.