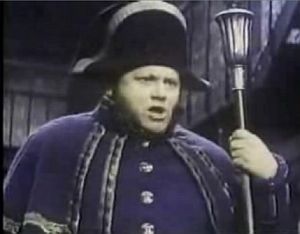 Harry Secombe (1921-2001) was a Welsh comedian, singer, and actor, who starred on the BBC radio series The Goon Show, along with Peter Sellers and Spike Milligan, from 1951 through 1960. In contrast to the versatile Sellers and Milligan, Secombe usually played only one character, the dense Neddie Seagoon, who served as the protagonist of most episodes, and spouter of such nonsense catch-phrases as "Needle-nardle-noo!"
Secombe also performed in stage musicals, starring as Mr. Pickwick in The Pickwick Papers, and in occasional films, most notably another Dickens project, playing workhouse beadle Mr. Bumble in the 1968 film version of Oliver!
In the fourth season Muppet Babies episode "Invasion of the Muppet Snackers," footage of Secombe as Bumble was used, in a sequence in which the babies line up for gruel in an Oliver!-style workhouse/orphanage. When Baby Piggy complains about the nasty food, Secombe appears briefly, aghast at her remark.
External links
Community content is available under
CC-BY-SA
unless otherwise noted.