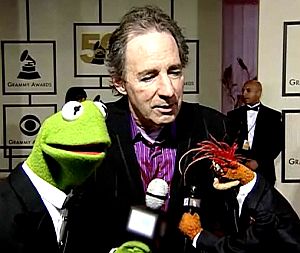 Harry Shearer (b. 1943) is an accomplished comic actor, writer, and satirist, perhaps best known today for his voice work on The Simpsons (as C. Montgomery Burns, Smithers, Principal Skinner, Ned Flanders, and countless others).
Shearer's 2008 CD Songs Pointed and Pointless received a Grammy Award nomination for Best Comedy Album. He was interviewed by Kermit and Pepe in a February 2008 Disney Xtreme Digital "Breakin' News" video covering the Grammy ceremony. Pepe's linguistic confusion appears to baffle Shearer, who tells Pepe that "I don't have a granny."
Shearer began his career as a child actor appearing on The Jack Benny Program (as one of the Beverly Hills Beavers on both radio and television) and appearances on the pilot episode of Leave It to Beaver and Alfred Hitchcock Presents. As an adult, Shearer was involved with the radio comedy troupe Credibility Gap (along with Michael McKean)
Shearer spent a brief stint on Saturday Night Live (as a replacement in 1979, regular during the 1984-1985 season) and co-starred as bass player Derek Smalls in the documentary spoof This Is Spinal Tap (which he co-wrote). As a script writer, he penned episodes of Laverne & Shirley and America 2-Night. Film credits include My Stepmother Is an Alien (in a voice-over impersonation of Carl Sagan), Little Giants, My Best Friend's Wedding, Oscar (directed by John Landis), The Truman Show (with Jim Carrey), the 1998 version of Godzilla, and A Mighty Wind.
Other accomplishments range from his syndicated public radio series Le Show to participation in Stan Freberg Presents: The United States of America, Vol. 2.
External links
Community content is available under
CC-BY-SA
unless otherwise noted.