PERFORMER
Jim Henson
DEBUT
1955
DESIGN
Jim Henson designer/builder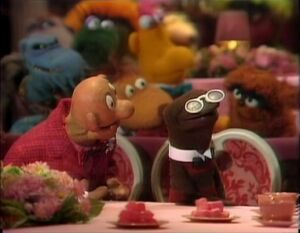 Harry the Hipster was one of the early Muppets from Sam and Friends, Jim Henson's 1955-1961 daily puppet show. He was a brown sock-puppet type with white shades, which indicated his hipster status. He was a lover of jazz who always spoke in hip slang. His most widely seen appearance, thanks to its reuse in retrospectives and clip shows, is the Sam and Friends episode "Visual Thinking."
Harry was one of the first Muppets created by Jim Henson, designed and built in September 1954.[1]
Harry made a comeback appearance in The Muppets: A Celebration of 30 Years where he asked Kermit why he looked different now compared to his earlier appearances.
Trivia
In the 1940s, jazz musician Harry Gibson was billed as "Harry the Hipster." Gibson also did some children's records in the early 1950s, such as "Jack and the Beanstalk, a Fairy Tale for Hip Kids," possibly inspiring Henson, who was in the age group to have been a "hip kid" around that time.
Sources