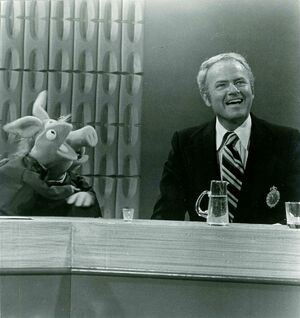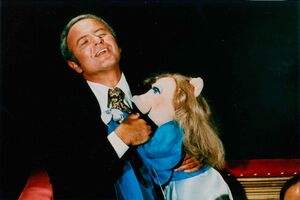 Harvey Korman (1927-2008) was a popular TV actor who specialized in broad comic characterizations. He guest starred on The Muppet Show episode 110. He later voiced the Dictabird in the Creature Shop-effects movie The Flintstones and played Col. Slaghoople in The Flintstones in Viva Rock Vegas (having supplied the voice of the Great Gazoo during the final season of the original animated series, 1965-1966).
Korman's first big break was as a featured performer on Danny Kaye's musical variety series, from 1963-67. He was best known as a leading man and second banana to Carol Burnett for ten seasons of The Carol Burnett Show (1967-77). He was a familiar face in the films of Mel Brooks, playing key roles in Blazing Saddles (as shifty Hedley Lamarr), the Hitchcock spoof High Anxiety (Dr. Montague), History of the World: Part I (Count de Monet), and Dracula: Dead and Loving It (as Dr. Seward).
In his later years, Korman did many voice over roles including on Hey Arnold!, Buzz Lightyear of Star Command, and Garfield and Friends; guest appearances on such shows as Suddenly Susan, ER, and Ellen; the occasional film such as Jingle All the Way (with Arnold Schwarzenegger) and Radioland Murders (with Ned Beatty and Jeffrey Tambor); and touring with his frequent co-star Tim Conway.
Trivia
Sources
External links