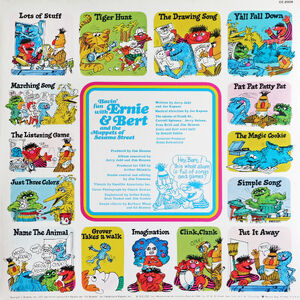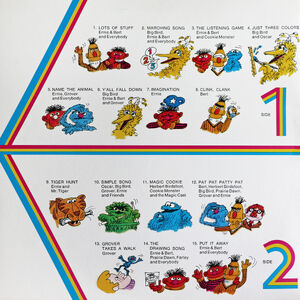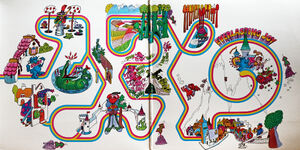 Havin' Fun with Ernie & Bert is a 1972 Sesame Street album in which Ernie, Bert and their friends get together to play games and sing songs. The songs from this album were also released simultaneously as seven consecutively numbered singles, packaged as individual book and record sets. It was also released as a "Carry About" boxed set of 45s, although the song groupings on each record were different from the individual single releases.
The original issue had a fold-out cover which had a map relating to "The Magic Cookie." There was also a plastic color wheel to be used during "Just Three Colors." The album was later re-issued in a cheaper cover without the fold-out or color wheel, and the references to these on the record were edited out.
Track listing
Side One
Side Two
Notes
Although the front cover and label shows the title as "Havin' Fun with Ernie & Bert", the spine shows it as "Havin' Fun with Ernie and Bert".
The album was recorded in late July 1972.[1]
Cast
Production credits
Other releases
International releases
Sources
See also