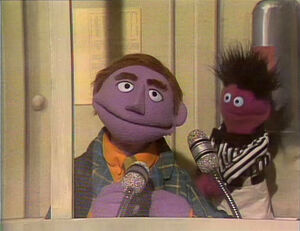 Headball is a recurring athletic series of Sesame Street sketches set at "Roosevelt Franklin Stadium," introduced in season 7. Roosevelt Franklin takes on the role of referee, who asks the players (his Roosevelt Franklin Elementary School students) questions, which they must use their heads to answer; correct answers are referred to as "thinkers." Showered Rozelle serves as the sportscaster for the game.
The crowd shots feature cameos from other Muppets, including Bert, Guy Smiley, Simon Soundman, Biff, Sully, Grover, Herry Monster and Count von Count.
The segments are scored by a thematic variation of the "Roosevelt Franklin Elementary School" theme. The exterior shot of the stadium is represented by a photo of the now-demolished Shea Stadium.
Picture
Player / First Appearance
Description

Baby Breeze

---

Episode 0877
Baby Breeze must answer what he'd do if his ball rolled into the street.

Hard Head Henry Harris

---

Episode 0887
Hard Head Henry Harris, coached by Roosevelt Franklin, participates in Headball and must answer the question, "Where is bread made?"

Team

---

Episode 0893
Roosevelt has his team practice their thinking skills by counting to 10, stopping at various points to ask them what comes next. When the practice is over, Showered Rozelle finds himself unable to remember what comes after 3.

Team

---

Episode 0988
Roosevelt trains his headball team by having them recite the alphabet.