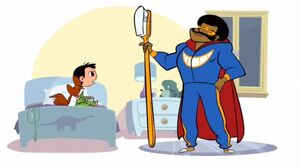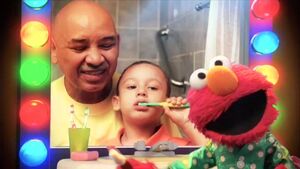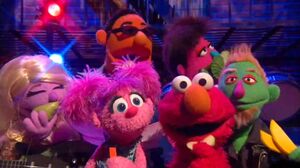 Healthy Teeth, Healthy Me is a bi-lingual educational outreach tool kit by Sesame Street, released in 2012.
The kit includes a 13-minute video, consisting of several songs and cartoons about taking care of one's teeth with a introduction by Elmo.
New Muppet segments include the songs "Can't Go Wrong" and "Open Sesame". A song called "Brushy Brush" includes celebrities Bruno Mars, David Hyde Pierce, Nicole Kidman, Amy Ryan, Wendy Williams, Jay Sean, Naomi Watts and Liev Schreiber.
The video also includes animated segments of the superhero, Captain Super Ultra Mega Smile Man.
The kit also introduces a new online game, "Brush Those Teeth", starring Guy Smiley.
The launch event for "Healthy Teeth" featured Gordon (Roscoe Orman) and Abby Cadabby (Carrara), as well as an Elmo costumed character. (YouTube)
Credits
Executive Producers: Christina Delfico and Melissa Dino
Co-Executive Producer: Kevin Clash
Writer: Christine Ferraro
Directed By: Kevin Clash
Starring the Muppets of Sesame Street:
With Muppets of Sesame Street Performers:
Voice Over
Senior Vice President, Content: Carol-Lynn Parente
Associate Director: Ken Diego
Art Director: Bob Phillips
Lyrics by Christine Ferraro
"Open Sesame" Composed By Russell Velázquez
"Brushy Brush" Composed By JP Rende and Kathryn Raio
"Can't Go Wrong" Composed By Mark Radice
Music By JP Rende
Vocal Music Director: Paul Rudolph
Additional Music By Mark Schultz and Dan Vitco
Jim Henson's Creature Shop Workshop Crew: Jason Weber, Michelle Hickey, Lara MacLean
Sesame Workshop, Senior Vice President, Outreach and Educational Practices: Jeanette Betancourt, Ed.D.
Sesame Workshop, Executive Vice President, Education, Research and Outreach: Lewis Bernstein, Ph.D.
Cameras: Shaun Harkins, Frankie Biondo, Jimmy O'Donnell
Animation: Titmouse, Inc.
"Brushy Brush" Graphics and Visual Effects: Magnetic Dreams
Sound Effects: Dick Maitland, CAS
External links
Community content is available under
CC-BY-SA
unless otherwise noted.