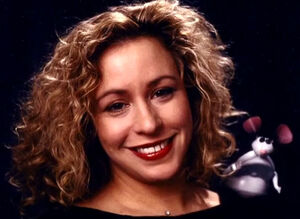 Heather Asch has worked as a puppet builder on many Muppet projects, including The Muppet Christmas Carol, Muppet Treasure Island, Animal Jam, and Sesame Street. She was a credited performer on Sesame Street for three seasons, assisting for Baby Bear, and playing Hansel (of Hansel and Gretel), among others.
Asch is a graduate of The University of Connecticut's Puppet Arts Program, and she has created her own puppetry pieces, including Bosom Buddies, which deals with the subject of breast cancer. Asch performed Bosom Buddies at "A Passion For Puppetry", a tribute benefit to Nikki Tilroe in January 2006.
Asch also works at Jim Kroupa's puppet workshop, 3/Design.
Asch now serves as Executive Director and Producer for Kathryn Mullen and Michael Frith's No Strings Productions.
Credits
Non-Muppet Puppeteering Credits
It's a Big Big World: Puppet Department Head
LazyTown: Trixie
Nick Jr.'s Play Along: Pinky, Lefty
Oobi: Additional Puppeteer
Between the Lions: Click the Mouse, Clay Pigeon, Smarmy Marmy Smartie Pants
Pigeon-Holed: Miss Fork In The Outlet
Johnny and the Sprites: Root the Earth Sprite (Full Series Version)
Voice Credits
External Links