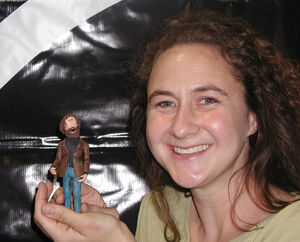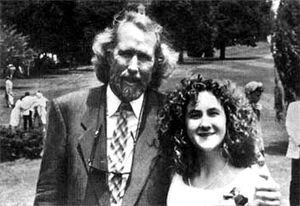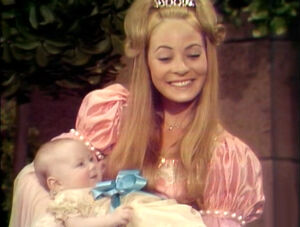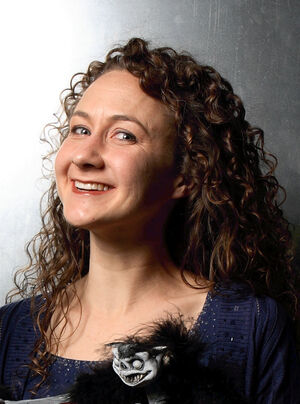 Heather Beth Henson (b. December 19, 1970) is the youngest of the five children of Jim and Jane Henson. She serves on The Jim Henson Company, The Jim Henson Legacy, and The Jim Henson Foundation Boards of Directors.
Her on-screen appearances include cameos in the Number Three Ball Film and The Muppets Take Manhattan, an uncredited part in the StoryTeller episode "Hans My Hedgehog," the role of Prince Kermit in The Frog Prince,[1] as well as Frank Oz's film Little Shop of Horrors as the unnamed patient who screams after a dental performance.
In the Fall 1984 issue of Muppet Magazine, she appeared as Cyndi Lauper in an installment on how to dress up for Halloween.
Henson produces the annual Orlando Puppet Festival. She curates and distributes the Handmade Puppet Dreams film series. She is the creator of "Panther and Crane," a drama about preserving the Florida ecosystem in modern times. Featured are puppets (alligators, migrating cranes and Florida panthers), live dancers, music and lights.
Heather Henson is also a key person in Puppet Slam, an online networking resource where puppet artists can locate places to perform and, correspondingly, where venues can find puppet artists. She is part of Handmade Puppet Dreams, a touring festival of puppet films. Henson performed in the back seat of Beauregard's taxi in the 1981 Macy's Thanksgiving Day Parade.
Official Bio
Heather Henson strives to use full sensory, non-traditional story telling tools to offer audiences a transformative experience. She has presented her nature spectacle puppet shows to venues such as PS122 NYC, Linx Hall Chicago, Joyce SOHO NYC, HERE Theater NYC, Zeum Museum San Francisco, Perishable Theater Providence and Heritage Square Orlando. In addition, Heather is proud to be serving on the boards of The Eugene O'Neill Theater Center, The Jim Henson Foundation for Puppetry Arts, and the The Jim Henson Legacy. In 2000 she formed IBEX Puppetry, an entertainment company dedicated to promoting the fine art of puppetry in all of its various mediums, nurturing work for a myriad of venues including stage, film & gallery. Company projects include: The Orlando Puppet Festival, Monthly Puppet Blasts, Handmade Puppet Dreams, Puppet Slam Network and original environmental theatre spectacles.
IBEX Puppetry is an entertainment company dedicated to promoting the fine art of puppetry in all of its various mediums, nurturing work for a myriad of venues including stage, cinema, and gallery. IBEX projects include: Handmade Puppet Dreams, Orlando Puppet Festival, PuppetSlam.com & Environmental Spectacles
External links
Sources