---
Revision as of 03:23, 14 November 2009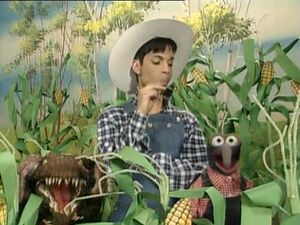 Hee Haw was an American television variety show featuring country music which aired on CBS from 1969-1971, and then another twenty years in first run syndication. Inspired by Rowan & Martin's Laugh-In, the show was hosted by Buck Owens and Roy Clark.
Bernie Brillstein's first big "package deal" from The Brillstein Company was Hee-Haw.
"Muppet Hoo-Haw" was a fictional Muppet show which was shown in episode 201 of Muppets Tonight, when The Artist Formerly Known As Prince was a guest. "Muppet Hoo-Haw" also featured a performance by the Hoo-Haw Ha Ha Ha Hayseed Band.
The video Kids' Favorite Country Songs parodies the opening of Hee-Haw.
Connections
Many individuals who have worked with the Muppets have also been involved with Hee-Haw
External links