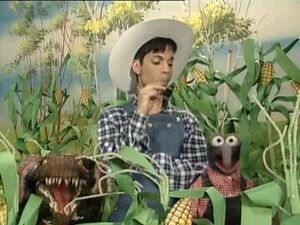 Hee Haw was an American television variety show featuring country music which aired on CBS from 1969-1971, and then another twenty years in first run syndication. Inspired by Rowan & Martin's Laugh-In, the show was hosted by Buck Owens and Roy Clark.
"Muppet Hoo-Haw" was a fictional Muppet show which was shown in episode 201 of Muppets Tonight, when The Artist Formerly Known As Prince was a guest. "Muppet Hoo-Haw" also featured a performance by the Hoo-Haw Ha Ha Ha Hayseed Band.
The video Kids' Favorite Country Songs parodies the opening of Hee-Haw.
Connections
Many individuals who have worked with the Muppets have also been involved with Hee-Haw
Loretta Lynn Tammy Wynette Waylon Jennings Johnny Cash Garth Brooks Dale Evans Dolly Parton Ed McMahon Jonathan Winters Kathie Lee Gifford Ray Charles Crystal Gayle Glen Campbell Willie Nelson Roger Miller Ethel Merman Willard Scott Henny Youngman Florence Henderson John Ritter Leslie Nielsen Lorne Greene Paul Williams Regis Philbin Robin Leach Roy Rogers Ruth Buzzi
External links
Community content is available under
CC-BY-SA
unless otherwise noted.