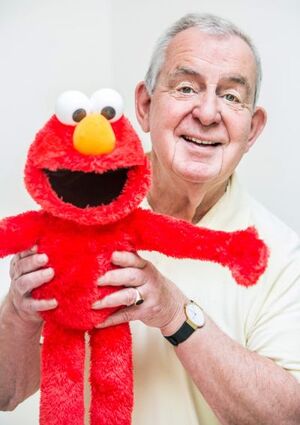 Hein Boele (b. 1939) dubs the voices of Elmo, Benny Rabbit, and Sherlock Hemlock (formerly voiced by Peter Piekos) on Sesamstraat, the Dutch co-production of Sesame Street. He also voiced Gobo Fraggle and Pa Gorg on the Dutch dub of the animated Fraggle Rock series.
In a 2015 interview Hein explains the troubles he had with getting used to Elmo's new voice and rhythm, when Kevin Clash took over the role from Richard Hunt. His uptempo in speaking and unpredictableness was not easy to get used too. But after a while he had managed handling the dubbing. Hein was surprised hearing from Kevin himself, that in Kevin's opinion, Hein's Elmo was one of the best he had heard on international level.
His non-Henson work includes dubbing voices in animated movies like Disney's Atlantis and The Rescuers Down Under, recording audio books, and playing many minor roles in TV series and movies. Boele also provided Rabbit's Dutch voice in Winnie the Pooh productions and Eleroo in The Wuzzles.
External links