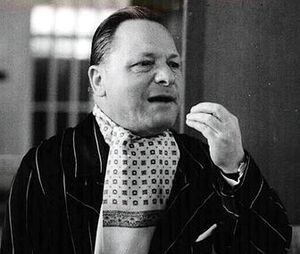 Heini Göbel (1910-2009) was a German actor who dubbed the speaking (and sometimes singing) voice of Dr. Teeth in some seasons of Die Muppet Show (The Muppet Show) and in the German dub of The Muppet Movie, as well as Der Grosse Muppet Krimi (The Great Muppet Caper) and Die Muppets Erobern Manhattan (The Muppets Take Manhattan).
On Die Fraggles, he sometimes voiced the World's Oldest Fraggle and alternated with Manfred Lichtenfeld (who was frequently the singing voice of Dr. Teeth) as Cantus the Minstrel, heard in "Mokey and the Minstrels" and "The Bells of Fraggle Rock."
Göbel worked heavily in German radio plays (including two Maigret adaptations) and records and only occasionally in film dubbing. He was the German voice of supporting actors Gerald Sim in Séance on a Wet Afternoon and Leopoldo Trieste in Divorce Italian Style. A frequent performer in German TV and film, Göbel played Hercule Poirot in a 1955 TV adaptation of Murder on the Orient Express and appeared in Snow White and Rose Red (1955, as Knickebein the squire) which gained exposure in the United States of America on the kiddie matinee circuit, and the acclaimed 1959 film The Bridge. He remained a staple of German television and film (with the mandatory appearances on Derrick, Tatort, Der Alte, and other German crime dramas) through 1996 and remained active on stage even after that.
Community content is available under
CC-BY-SA
unless otherwise noted.