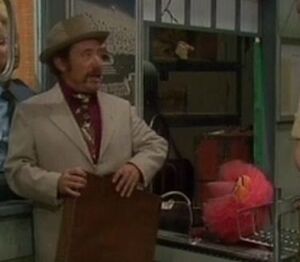 Heinz Schubert (1925-1999) was a German actor who starred in the first West German sitcom Ein Herz und eine Seele (1973-1976). He guest starred on Sesamstrasse in 1978, as a man in a hurry heading to the train station.
Schubert worked steadily in German film and appeared in a pair of English-language films, the Disney movie Emil and the Detectives (1964, as the pickpocket Grundeis whose actions start the plot) and a smaller role in Funeral in Berlin (with Michael Caine). German films included Auf der Sonnenseit (1962, with Manfred Krug) and starring parts in Strongman Ferdinand (1976, as a paranoid security guard) and Hitler, ein Film aus Deutschland (1977, in multiple roles including Hitler).
On television, Schubert played the coarse, reactionary Alfred Tetzloff (or "Ekel" Alfred, meaning disgusting) on Ein Herz und eine Seele. The series adapted the British sitcom Til Death Do Us Part (the source for All in the Family) and featured Hildegard Krekel as Alfred's daughter. He later starred in another localized British sitcom, as grousing old man Victor Bölkhoff in Mit einem Bein im Grab (1996-1997), taking the Richard Wilson role from One Foot in the Grave.
Schubert's other TV credits included a regular stint on Detektivbüro Roth (1986-1987) as private detective Egon Fetzer and guest appearances on Das Kriminalmuseum, Polizeiinspection 1, and Tatort (including a single appearance as retired Kriminalhauptkommissar Felber, lead investigator in 1995's "Eine mörderische Rolle").
External links