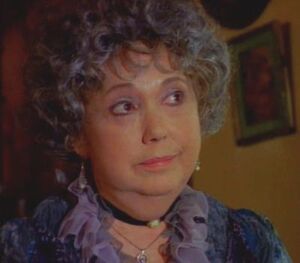 Helen Burns (1916-2018) was a British actress who played Clara Buford in Lighthouse Island, which aired as half of a Jim Henson Hour episode in 1989.
Burns spent much of her career on stage, beginning in London in the 1940s (including a stint with the Royal Shakespeare Company in 1947, with Paul Scofield and Donald Sinden). During this time, she was heard often on BBC radio, including a 1948 serial of Emma and reading serialized novels (Wilkie Collins' Poor Miss Finch for two months on Woman's Hour in 1952).
Burns moved to Canada in 1955, remaining there through the late nineteen-eighties with periodic returns to England. She also performed on Broadway in several plays, including the 1958 production of Two Gentlemen of Verona and the 1978 version of The Inspector General (as the mayor's wife, opposite Theodore Bikel).
Film credits, usually in principal supporting roles, include The Changeling (as a medium Leah Harmon, with George C. Scott), Utilities, Zorro: The Gay Blade (as the ancient servant Consuelo, with George Hamilton), and If You Could See What I Hear (directed by Eric Till). On television, Burns made guest appearances on Mr. Bean, the Canadian anthology Front Row Centre (reprising her role from the stage play Catsplay), Dr. Finlay's Casebook, and Pulaski: The TV Detective (as Millie in three episodes). One of her last on-camera roles was Aunt Pittypat in the 1994 miniseries Scarlett.
Married to stage producer/director Michael Langham until his death, Burns was the mother of Chris Langham.
External links