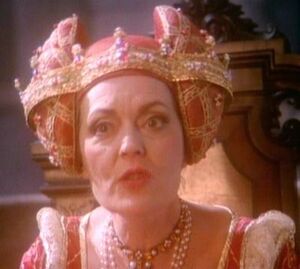 Helen Lindsay (b. 1929) is an actress who played the queen in The StoryTeller episode "Hans My Hedgehog."
Lindsay has often played imposing, aristocratic women, royalty or otherwise. She established her type early, as the aloof Estella in a 1956 TV version of Great Expectations, followed by the protective Miss Temple in a 1970 TV Jane Eyre and an assortment of duchesses, society matrons, and businesswomen. Film credits include Darling, Mission: Impossible (as a female executive on the train), Strapless (with Bridget Fonda and Hugh Laurie), The Tribe (with Joely Richardson), and Wedding Date (with Amy Adams)
She was busiest on TV, with appearances on The Avengers, Upstairs Downstairs (twice as Mrs. Cochrane-Danby, opposite Richard Vernon's Major), The Pallisers, The Agatha Christie Hour, All Creatures Great and Small, The Bill, Foyles War (as a magistrate), Midsomer Murders, and Poirot (Sister Rosalia in "Mystery of the Blue Train.") She was cast to type as Lady Constantia in the 1994 miniseries Little Lord Fauntleroy, the Queen of Spain in The Disputation (with Bob Peck), and the Dowager Queen in Confessions of an Ugly Stepsister (with Stockard Channing and Jonathan Pryce).
External links
Community content is available under
CC-BY-SA
unless otherwise noted.