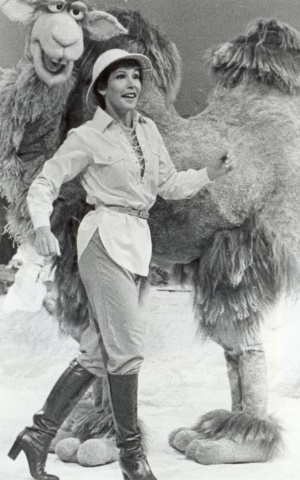 Helen Reddy (b. 1941) was a popular Australian singer and actress during the 1970s. She guest starred in The Muppet Show episode 313. On the show, she performed "You and Me Against the World" (written by Paul Williams) and "Blue" (written by Joe Raposo).
Her #1 single "I Am Woman" became her signature song, in 1972. The song was spoofed on Sesame Street in 1991 as "I Am Chicken".
Helen appeared on Sesame Street, singing "Grow", "I Make Up Songs", and "Wonder Child", the last two of which appear on the album The Stars Come Out on Sesame Street, as well as a single containing both songs.
Helen recorded her first single, a cover of Mac Davis' song "I Believe in Music" with B-Side "I Don't Know How To Love Him" at the Charlie Chaplin Studios in 1971. Her other songs include the number-one hits "Delta Dawn" and "Angie Baby".
Reddy was the first Australian to win a Grammy (1973). Her film credits include Airport 1975 (1974) and the Disney film Pete's Dragon (1977).
External links
Community content is available under
CC-BY-SA
unless otherwise noted.