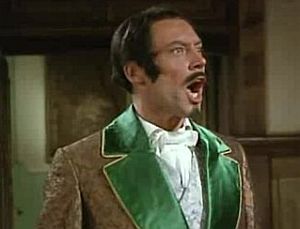 Helmo Kindermann (1924-2003) was a German voice actor who dubbed the Amazing Mumford and others on Sesamstrasse. He was also heard narrating the story of "The Sad King" on the album Sesamstrasse, Folge 3.
After serving in the navy during WWII and becoming a POW of the British, Kindermann settled in Egypt and then Italy, gravitating towards acting and dubbing work. Returning to Germany in the 1950s, he appeared in several children's films (which were subsequently dubbed and released in the US on the kiddie matinee circuit). He was heavily costumed as the wolf in Der Wolf und die sieben jungen Geißlein (aka The Big Bad Wolf) and appeared in The Magic Fountain. In the 1960s, Kindermann appeared in several international co-productions as various Nazis, notably in John Frankenheimer's The Train (also dubbing Paul Scofield for the German release), the biopic Wernher von Braun (as a general), Roger Corman's The Secret Invasion (as Commandant Mueller), and The Longest Day (uncredited as a German officer). As a dubbing actor, Kindermann was the primary German voice of Charlton Heston. He also dubbed Paul Scofield again in A Man for All Seasons, Henry Fonda in The Ox-Bow Incident, James Coburn in The Great Escape, John Gielgud in Assignment to Kill, Donald Sinden in Island at the Top of the World, and John Forsythe in In Cold Blood. For television, he dubbed multiple guest stars on Star Trek (including Ricardo Montalban) and Columbo (including Harold Gould).
External links
Community content is available under
CC-BY-SA
unless otherwise noted.