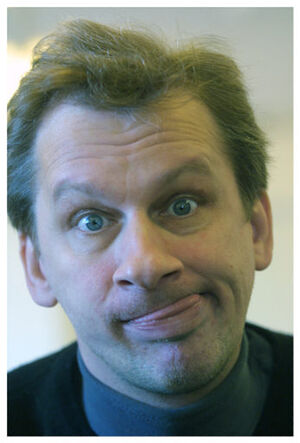 Henrik Kofoed (b. 1955) is an actor and comedian who performed the voice of Wembley in Fragglerne, the Danish version of Fraggle Rock. He voiced Sir Didymus in Labyrinten til troldkongens slot, the Danish dub of Labyrinth
Kofoed graduated from the Danish National School of Theatre in 1980, and has appeared in a variety of movie, TV and theater roles over the years. Some of his credits include Rend mig i traditionerne, the Lars Von Trier series Riget (The Kingdom), Brøderne, Rejseholdet, Krøniken and many more. His voice work include Roquefort in The Aristocats, the Seahorse (originally Will Ryan) in The Little Mermaid, Julius Caesar in Astérix & Obélix: Mission Cléopâtre, and many more.
In 1991, Kofoed founded the comedy group Ørkenens Sønner (Sons of the Desert) along with Flemming Enevold (the voice of Philo in Fragglerne), Søren Pilmark, and Asger Reher in 1994. They try to get together as often as possible to do a new show, but it's hard for them to fit it in their busy schedule. Their shows are notorious for their below-the-belt comedy.
External links