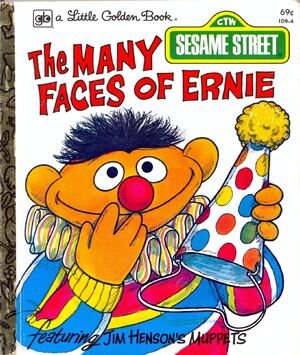 Herbert Hartig (1930-1991) was a writer, lyricist, and occasional performer. He wrote for Sesame Street for a time, contributing an Ernie and Bert sketch co-written with Judy Freudberg and Tony Geiss (adapted as the book The Many Faces of Ernie). Around the same time, Hartig worked under head writer Geiss on the CTW adult-oriented health series Feeling Good (1974-1975), supplying scripts and song lyrics.
In the 1950s, Hartig did stand-up comedy as a team with Paul Mazursky (under the name Igor and H) but shifted primarily to writing. Hartig had worked with Geiss on both on and off-Broadway revues, contributing material to The New Faces of 1962 (on) and 1965's Wet Paint (off, with Linda Lavin and Bill McCutcheon). He also wrote the lyrics to "Love Power" performed by Dick Shawn in the Mel Brooks' film The Producers.
Hartig's other television writing ranged from variety shows to the 1977 Macy's Thanksgiving Day Parade to a Nathaniel Hawthorne adaptation for PBS. In the 1980s, Hartig did voice-over work, narrating videos for the New York Office of Mental Retardation and Developmental Disabilities, doing commercial spots (including Superman in an Underoos ad) and acting on radio including the NPR serial A Canticle for Leibowitz (with Russell Horton) and the only New York-recorded episode of the CBC horror anthology Nightfall.
External links
Community content is available under
CC-BY-SA
unless otherwise noted.