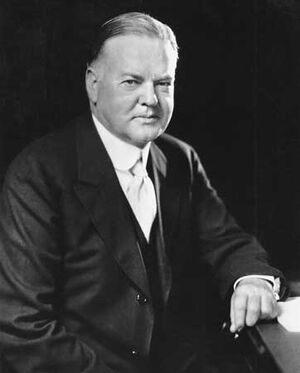 Herbert Hoover (1874 - 1964) was the 31st President of the United States, serving his time in the White House from 1929 to 1933.
References
President Hoover was mentioned in a few Rowlf the Dog scenes on The Jimmy Dean Show. In one appearance (November 21, 1963), Rowlf writes a love letter to Lassie, requesting she send an autograph picture, which he claims will sit next to his picture of Hoover. In a later sketch (January 16, 1964), Rowlf takes up jazz. When Jimmy Dean suggests he himself play some jazz on the show, Rowlf quips, "Jimmy Dean in a hip combo? Is Herbert Hoover in the Rat Pack?"
In Episode 0923 of Sesame Street, Cookie Monster begins a campaign for President. At his first campaign luncheon, he promises "a cookie in every pot and two cookies in every garage," referencing the slogan associated with Hoover's campaign.
Community content is available under
CC-BY-SA
unless otherwise noted.