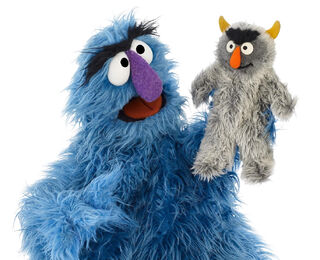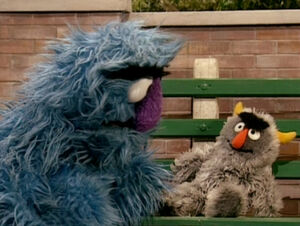 Hercules is Herry Monster's monster doll. He appeared as early as Episode 1967. In another early appearance, Herry refers to him as "little teddy monster" in Episode 2000.
He has been featured with Herry in "Guys and Dolls", "A Song for Two", "Moonshine", "Monster Lullaby", and "Late Night on Sesame Street" with Conan O'Brien. Hercules was also featured in the street story of Episode 3793 when Herry slept over at Gabi's house, and briefly in Episode 3886. The doll was originally named Rupert in Episode 3361.
Hercules has appeared with Herry in a PVC by Tyco, and the book The Fix-It Shop.
Herry's other dolls
Herry loses his dolly in Episode 1827.
Herry also has a teddy bear seen in "Good Morning, Morning" and "I Think That It Is Wonderful", and he has a doll named Elizabeth in Episode 1261.
In picture books, He has a doll named Dolly in Sesame Street Finding Out Encyclopedia 4: The D Book, and in the 1984 book My Doll Is Lost!, Herry has another doll that is very special to him.
See also
Community content is available under
CC-BY-SA
unless otherwise noted.