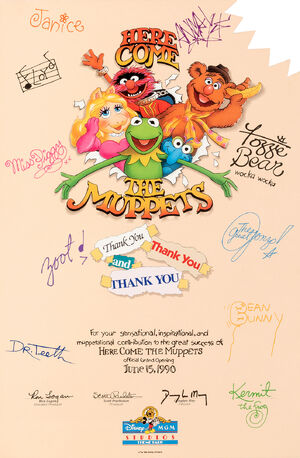 This is a rare poster, given to the crew and production team of the Disney-MGM Studios' stage show, Here Come the Muppets, prior to its grand opening.
The central graphic consists of Kermit the Frog, Gonzo, Fozzie Bear, Animal, and Miss Piggy ripping through the center of the poster.
Above the main text, there is a graphic of four pieces of paper "taped" to the poster, forming Fozzie's regular Muppet Show act opener "Thank You, Thank You, and Thank You." Under this graphic, the text continues: "For your sensational, inspirational, and muppetational contribution to the great success of HERE COMES THE MUPPETS official Grand Opening June 15, 1990."
Under this text, there is a row of lines bearing signatures of important people involved in the production, and their names printed directly beneath those signatures. They are (from left to right):
Ron Logan -- Executive Producer
Scott Powbatan -- Producer
Douglas May -- Director
Kermit - The Frog (in green, rather than uniform black, to emphasize the signature's facetiousness)
Muppet Signatures
In addition to Kermit's signature, those of a number of other core Muppet cast members appear on this poster. They are (counter-clockwise, beginning with Bean's signature in the lower-left, just above Kermit's):
These same signatures were used on the rubber stamps Muppet walk-about characters would use rather than signing free-hand (which is the common practice of most Disney theme park characters).
There is also a "bite" on the left hand corner, near Animal's signature.