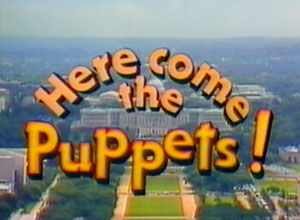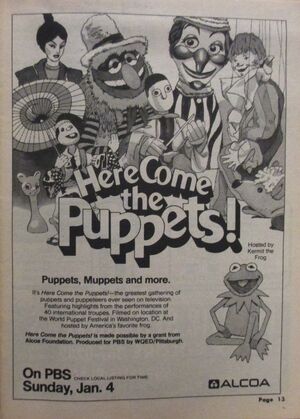 Here Come the Puppets! is a special that was taped for PBS during the 1980 World Puppetry Festival, airing on January 4, 1981. Co-hosted by Kermit the Frog and Jim Henson, it featured performances by Burr Tillstrom, Shari Lewis, Bil Baird and the Muppets. Other performers included Sergei Obraztsov, Manteo's Sicillian Marionettes (from NYC), Albrecht Roser, Bruce Schwartz, Martin Stevens, and Frank Ballard's (at the time, Puppet Arts head at University of Connecticut) "Ring of the Nibbelung."
The special begins with Fozzie and Kermit talking about being puppets. Soon after, Jim and Kermit (in his reporter outfit) host the special.
Kermit opens the show, standing outside the White House. We then see Jim performing Kermit outside the festival hall as he gives us an introduction to the show.
The Muppet selections include:
At the end of the special, Oscar and Bruno are joined by Sweetums, The Bossmen, some Muppet Birds, Doglion Beast, Mean Mama, Fletcher Bird, Betsy Bird and many other assorted large Muppets as Sweetums brings out Jim Henson, Frank Oz, and Caroll Spinney.
Credits
Producer: Jerry Hughs
Writer: Stephan Dick
Directors: Bob Walsh, David E. Gerber, Carol Moore-Ede
For Henson Associates, Inc.: Nancy Bielen
See also