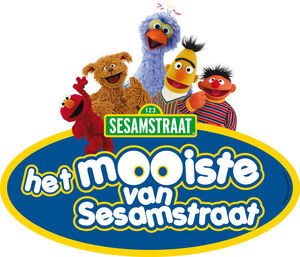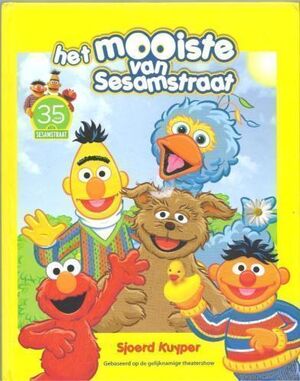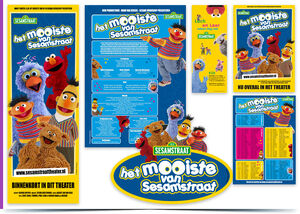 Het Mooiste van Sesamstraat (The Most Beautiful Thing from Sesame Street) was a Sesamstraat Theater show which premiered in 2010. It was the third live show based on Sesamstraat, and the first to feature Sesamstraat characters Pino and Tommie. The show was specially written and performed in the Netherlands to celebrate Sesamstraat's 35th anniversary. It ran from September 2010 until January 2011. This project didn't go through the production team of the original Sesamstraat show. As a result, the original voice actors chose not to participate, and new sound-alike voices were used.
When Doedoe, a traveler, decides to pay a visit to Sesamstraat, the gang wants her to stay. They think if they can show her how beautiful Sesamstraat is, she never wants to leave again. But what is the most beautiful thing they have?
Everyone goes on a search for that answer. Pino thinks all the beautiful things have to be labeled. Ernie wants Doedoe to like Rubber Duckie as much as he does. Elmo thinks the moon is the most beautiful thing. And Bert has some problems with the whole concept. Finally, Tommie figures it out... but will it convince her to stay?
Soundtrack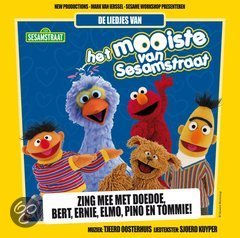 The songs from the show were released as a CD, and sold at the show.
Tracklist
Het Mooiste Van Sesamstraat (Sesamstraat Theme)
Altijd Vandaag (Always Today)
De Boekoeroe
Rubber Eendje (Rubber Duckie (song))
Alles Moet Blijven Zoals Het Is (Everything Must Stay as Is)
Het Geeft Licht (It Gives Light)
Ontelbaar Mooi (Uncountable Beautiful)
Tommie's Rap
Sprookjes (Fairytales)
De Maan (The Moon)
Vriendschap (Friendship)
Altijd Vandaag (Karaoke)
De Boekoeroe (Karaoke Versie)
Ontelbaar Mooi (Karaoke Versie)
Tommie's Rap (Karaoke Versie)
Voices
Performing cast
Crew
Mark van Ierssel, producer in association with NEW productions
Anne-Marie Wijnekus, producer and tour manager
Albert Jan van Rees, director
Sjoerd Kuyper, script and lyrics
Tjeerd P. Oosterhuis, music
Willem Schotten, decor
Carolien Canters, choreography
The NS-tour en photo moment
On Thursday 4th of August 2010, the cast toured by train through the country for promotion. Kids could have a picture taken with them and they sang a song from the show.
HAARLEM: 11.00h stationhal
UTRECHT: 12.25h stationhal
ENSCHEDE: 15.40h stationhal
External links