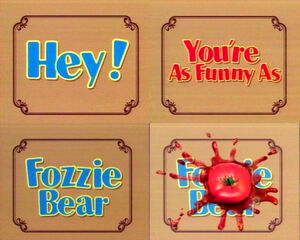 Hey, You're as Funny as Fozzie Bear is a 1988 video in the Play-Along Video series. In the video, Fozzie Bear teaches the viewers -- as well as his young friends P.J. and Kai-Lee -- to tell funny jokes and perform impressions and magic tricks. At the end of the video, Fozzie encourages the viewers to bring their parents and friends into the room, to see their Big-Time Comedy Show.
Kermit the Frog provides the introductions for Fozzie, and there are cameo appearances by Miss Piggy, Animal and the Luncheon Counter Monster.
Songs
Notes
This video was taped in February of 1988.[1]
Credits
Muppet Performers: Jim Henson, Frank Oz, Kevin Clash, Camille Bonora, David Rudman, Brad Brewer
With Carolina Blanco, Beatriz Blanco, Eric Davidson, Stacey Abrams, and YOU
Directed by David Gumpel
Written by Jim Lewis
Produced by Mary Ann Cleary and Ritamarie Peruggi
Set Designer: Lyndon Mosse
Music and Lyrics: John Van Eps, Jim Lewis
Music Consultant: Phil Ramone
Puppet Workshop: Rollin Krewson
Production Assistant: Pat Nugent
Special Effects: Fred Buchholz
Technical Director: Tom Guadarrama
Executive Producer: Jim Henson
Characters
Cameos: Miss Piggy, Luncheon Counter Monster
Sources