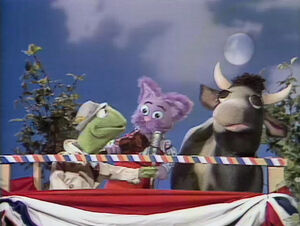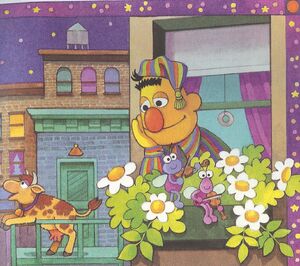 "Hey Diddle Diddle" is a classic nursery rhyme about a cat, a fiddle, a cow, a moon, a little dog, a dish, and a spoon. The poem was first published in 1765, but its origins may be earlier.
Adaptations
Recordings
References
A Sesame Street News Flash featured the rhyme. This time the cat is the manager of Natalie, whom was going to perform a jumping-over-the-moon stunt. The Cat was also a professional violinist; he accompanied Natalie's takeoff with a fanfare on his fiddle and played Wild Blue Yonder as the cow went over the moon.
Telly tries to present a reenactment of the nursery rhyme in Episode 3231 of Sesame Street, but the characters from the rhyme prove to be uncooperative.
Hey Diddle Diddle is the "Nursery Rhyme of the Day" in Episode 4079 of Sesame Street, which is recited by a cow who fell from the sky.
Telly catches the cow from the rhyme as she lands in Episode 4083 of Sesame Street.
Releases
Video
Other