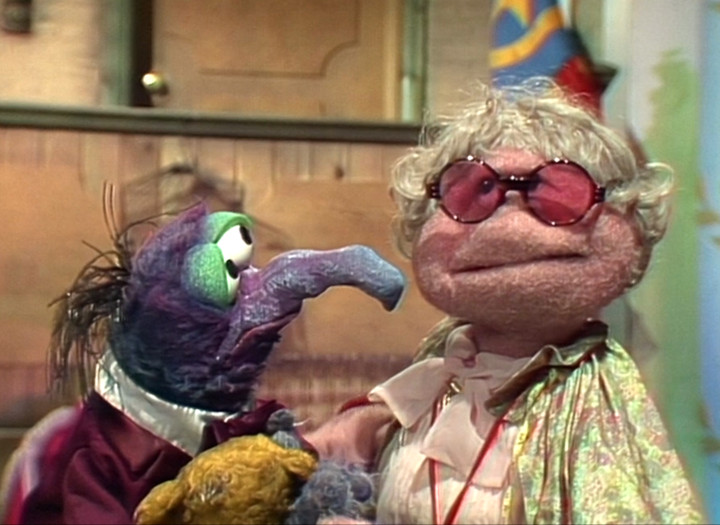 Hilda is the seamstress/wardrobe mistress on The Muppet Show. For the most part, she only appears in the first season of the show; she makes rare appearances as a background character later. Hilda speaks with an Eastern European accent.
Hilda usually appeared backstage. Her onstage appearances include introducing Vincent Price in a scary sketch set in Transylvania, which she claims is her homeland. She participated in the Panel Discussion:"What is Man's Role in the Universe?" in episode 109. She was one of the library patrons who played "The Blue Danube" in episode 124. She also occasionally sang backup for numbers such as "Friends", "I Got a Name", "There's No Business Like Show Business", and "(Hey Won't You Play) Another Somebody Done Somebody Wrong Song".
In episode 118, she tries to appear younger by wearing a wig, putting on makeup, and even fitting her figure into a corset (until it blows a gasket). She goes to these lengths because no one believes her when she claims she is only 35 years old.
In episode 102, Gonzo begs her to mend his teddy bear.
In episode 121, she refuses to believe in the Phantom of the Muppet Show, Uncle Deadly, while the others are terrified. She finally must admit his existence when she sees the ghoulish dragon wandering backstage.
Hilda was one of the central backstage characters in the first season. After performer Eren Ozker left at the end of season one, Hilda appeared in the background in a couple of episodes, but didn't have any more speaking roles.
Filmography
Book appearances
Community content is available under
CC-BY-SA
unless otherwise noted.