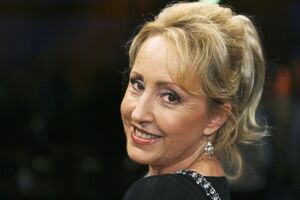 Hildegard Krekel (June 2, 1952 - May 26, 2013), was a German actress who played the first incarnation of Bettina on Sesamstrasse from 1986 until 1989.
Though slight set changes and puppeteer recasts had occurred on the show in 1986, she is considered the last female human character of the first studio era to interact with Samson, Tiffy and Uli von Bödefeld in the street scene frame stories, opposite Gernot Endemann as Schorsch. On Sesamstrasse she also met director Jan Fantl, who became her life-partner at the time.
Her role was passed on to Kirsten Sprick, when the show received an entirely new street set in 1989.
Krekel was best known for her role as Heinz Schubert's daughter on the sitcom Ein Herz und eine Seele (Germany's version of Till Death Us Do Part in the UK and All in the Family in the US). Other notable work includes being the German dubbed voice of Bette Davis, Helen Mirren and Andrea Martin.
External links
Community content is available under
CC-BY-SA
unless otherwise noted.