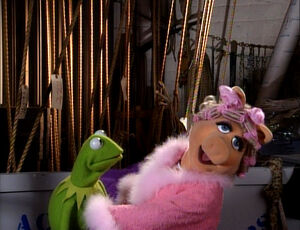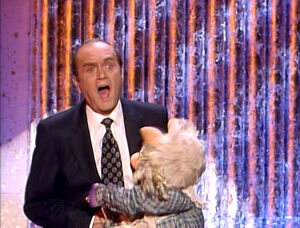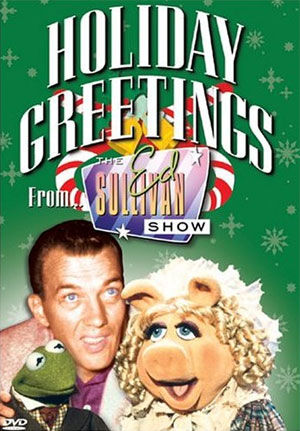 Holiday Greetings from the Ed Sullivan Show was a Christmas special that aired on CBS on December 20, 1992, hosted by comedian Bob Newhart and featuring vintage material from The Ed Sullivan Show along with new Christmas performances. Jim Henson's Muppets were featured guests, primarily Kermit the Frog and Miss Piggy. The pair appear in the opening teaser discussing the show and its big stars. Though some may be bigger than Miss Piggy, Kermit claims none are as wide, earning himself a karate chop.
Later in the show, Bob Newhart narrates a brief series of clips and stills showing Jim Henson's work on The Ed Sullivan Show, segueing into the return of Kermit and Miss Piggy, in full Dickensian garb to promote The Muppet Christmas Carol. The frog and the pig squabble again and Newhart tries to promote peace by asking Miss Piggy about her karate chops. She provides a visual demonstration of several different styles, but on the last swing, Kermit ducks to the floor and Piggy inadvertently pummels Newhart instead.
A still breathless Newhart announces "that legendary author, Charles Dickens" (Gonzo) to set the scene. Gonzo and Rizzo introduce the Cratchit home, where Bob Cratchit (Kermit), Emily Cratchit (Piggy) and Tiny Tim Cratchit (Robin) sing "It Feels Like Christmas." They are joined by Fozziwig (Fozzie Bear), Bunsen and Beaker, Gonzo and Rizzo, penguins, Mudwell the Mudbunny, and Murray, all in costume.
The next segment features clips of other puppets who appeared on the Sullivan show, including Bil Baird's marionettes, Shari Lewis with Lamb Chop and Charlie Horse, and Topo Gigio.
Other guests on the special included Johnny Mathis, Roy Rogers and Dale Evans, among others.
The special was originally released on VHS in 1994, distributed by Walt Disney Home Video, and was later released on VHS and DVD by SOFA Entertainment in 2003.
Credits
See also
Community content is available under
CC-BY-SA
unless otherwise noted.