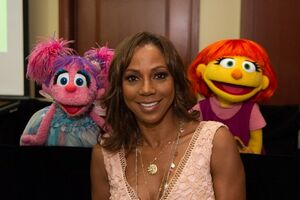 Holly Robinson Peete (b. 1964) is an actress and the daughter of Sesame Street actor/producer Matt Robinson, the original Gordon. As a child, she appeared on the series, on at least one occasion, as one of the kids. Best known for her roles on such TV shows as 21 Jump Street, Hangin' with Mr. Cooper, and the UPN sitcom Love Inc., the actress has reminisced in various print and online publications about her father and his Sesame Street work.
In the biographical portion of her own website, Peete recalls, "...when I was four and my brother, Matt, was seven, my dad got his big break as the star of a new children's program called (who could've predicted this show would still be on!) Sesame Street. I was so psyched to get to hang out with Big Bird, Oscar and Cookie Monster." She told Ebony magazine in December 2002 that, "we all liked to brag on our parents when we were kids; I did my share as a 4-year-old when my daddy was on Sesame Street."[1]
In an interview with iParenting.com, Holly Robinson Peete offered further details about the Sesame days: "There was my dad on TV with his pork chop sideburns." Though Matt Robinson was initially opposed to his children being in front of the cameras, young Holly Robinson begged her father to let her appear on the series. "I had one line, and that was 'Hi Gordon,' but I couldn't get it right. All I could manage was 'Hi, Dad!' and that was the end of that."
Matt Robinson offered his own comments on his children's reactions in the 1971 book All About Sesame Street: "Matt and Holly both watch the show, but Holly's more loyal.... They were interested about how the show was done, so I took them both up to see it. Each did a scene with me, but there was no mention of our relationship. No mention by me. Holly's a little jealous of one little girl who appears regularly, so she walked up to her and said, 'You know, that's my daddy.' Fortunately Loretta wasn't there; Holly was going to set her straight, too!"
Sources
External links