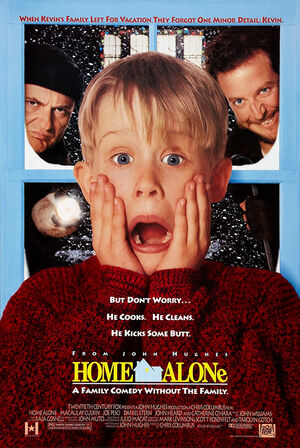 Home Alone is a 1990 comedy written by John Hughes about a young boy who's left home alone when his family goes on vacation and must outwit two burglars who have cased his house. The film spawned a sequel with most of the cast reprising their roles, as well as three additional films and other merchandising.
References
The Dinosaurs episode "Out of the Frying Pan" features a plot in which Baby Sinclair becomes a star in show business. Robbie looks over a script offered to his brother summarized as: "A baby dinosaur's family goes on vacation and leaves him home alone." Robbie comments that the synopsis is too unbelievable.
On December 23, 2017, Kermit the Frog tweeted, "We Muppets are spending the weekend watching holiday movies... everything except Home Alone. We don't want @GonzotheGreat to get any ideas." [1]
Kermit tweeted the same observation exactly one year later, "There's nothing like gathering together with friends and family to watch your favorite holiday movies. (We just don't let @GonzotheGreat watch "Home Alone." We don't want him getting any ideas.)" [2]
Notes
In the film, Kevin tells his neighbor he "got a sweater with a big bird knitted on it". The line may be misconstrued as a reference to Big Bird.
Connections
Community content is available under
CC-BY-SA
unless otherwise noted.