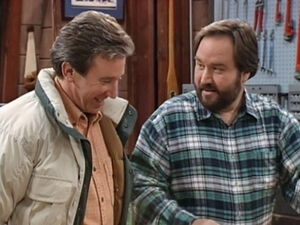 Home Improvement was a sitcom which aired on ABC from 1991 to 1999. Based on the stand-up comedy of Tim Allen, the series featured Tim Taylor, host of the home improvement show, "Tool Time," with his family and the trials and tribulations of their everyday life. The series received numerous awards and nominations including Golden Globes and Primetime Emmy Awards.
Muppet Mentions
In "Futile Attraction", Tim calls Al's house not knowing that Heidi, who works on Tool Time, is there. When Heidi picks up the phone, Tim disguise his voice and says wrong number. When Al asks who was on the phone, Heidi replies, "It sounded like one of the Muppets." Later when Tim reveals to Al that he called his house, Al calls Tim Kermit.
References
Connections
Sources
Community content is available under
CC-BY-SA
unless otherwise noted.