PERFORMER
various
DEBUT
1980
DESIGN
Caroly Wilcox designer and builder
The Honkers are fuzzy creatures from Sesame Street who communicate by honking their bulbous noses. Conceptualised by Tony Geiss,[1] the Honkers made their debut in 1980, during Season 12[2] (first appearing in Episode 1458).
Honkers come in a variety of colors, and baby Honkers are hatched from eggs. It is not known how closely related (if at all) the Honker species is to that of The Dingers, although there are similarities between the two.
As the Honkers never speak, their performers vary, depending on puppeteer availability. In the feature film Follow That Bird, Tim Gosley performed the Honker who served as Oscar's car horn. That specific Honker puppet has been named several times. Another Honker whose name has been mentioned is Henrietta Honker, the small pink honker.
Most of the Honker puppets were constructed with only one arm, built for the puppeteer's left hand. This arm is directly connected to the front of the body, but on the television screen, it is barely noticeable due to the amount of fur and fabric on a Honker's body, and the framing of the puppet on-screen.
A few songs have focused on the Honkers and their unique talent, including "Honk Around the Clock" and "The Honker-Duckie-Dinger Jamboree". A list of Honker puppets used on the show:
Image
Features
Notes

Fur: Green
Hair: Blue
Nose: Yellow-orange
Has been called Mr. Honker (in "Name That Sound"), Alphonse (in a "Next To" sketch), Murray Beethoven, Hildegard (in Episode 2595), Hank (in Elmo's Musical Monsterpiece), and Homer (most likely erroneously on page 63 of Jim Henson: The Works).

Fur: Green
Hair: Red
Nose: Yellow-orange
Similar to above, but with red hair.


Appearances:
Episode 4818, 4821, 4902, 4911, Elmo's World: Noses, The Cookie Thief

Fur: Pink
Hair: Orange
Nose: Orange
Appearances:
Episode 1813, Episode 2312, 2317, 2626, 2638, 3139, 3224, 3421, 3466, 3661, 3806, 3825, 3850, 3893, 3976, 4007, 4074, 4115, 4157, 4164, 4176, 4810, 4825, 4905, 4518, 4605, 4618, 4619, 4815, 4828, 4911, 4914, Let's Make Music

Fur: Purple
Hair: Purple
Nose: Orange
Appearances:
Episode 1458, 1576, 1706, 2484, 2749, 2809, 2967, 2998, 3194, 3256, 3301, 3402, 3577, 3786, 4062, 4081, 4115, 4818, 4911

Fur: Orange
Hair: Orange
Nose: Red-orange
Appearances:
Episode 1458, 1576, 1706, Episode 1813, 2226, 2312, 2317, 2484, 2561, 2638, 3301, 3466, 3840, 4089, 4098, 4115, "Old MacDonald Cantata", Sing Yourself Silly!




Fur: Blue
Hair: Blue
Nose: Green
Appearances:
Episode 1576, 1706, 2626, 2638, 3301, 4074, The Best of Elmo, Let's Make Music

Fur: Turquoise
Hair: Primrose
Nose: Gold
Appearances:
Episode 1458, 1576, 3100, 3194, 3301, 3402, 3702, 3868, 3954, 4007, 4028, 4039, 4052, 4055, 4115, 4618, 4911, 4923, Kids' Favorite Songs 2, Elmo's World: Noses

Fur: Pink
Hair: Pink
Nose: Yellow-orange
A baby Honker who was named Henrietta Honker in Episode 4074.

Fur: Light blue
Hair: White
Nose: Light pink
Appearances:
Episode 4031, 4056, 4074, 4417, Elmo's World: Families
Notes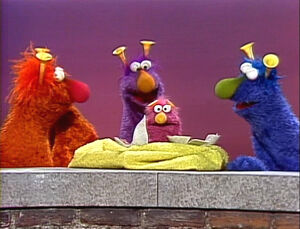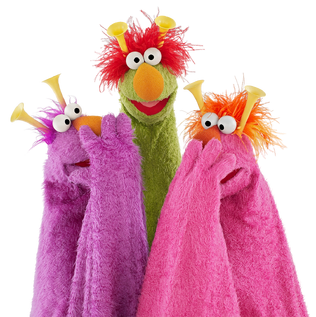 Performers of the Honkers have included Brian Muehl, Kathryn Mullen, and Cheryl Blaylock, all of whom did them in "The Honker-Duckie-Dinger Jamboree", and Pam Arciero and Jim Martin, who operated them in "Conga".
Despite being depicted on Sesame Street as non-vocal, in A Muppet Family Christmas, they are seen singing along with the rest of the crew during the musical numbers.
Appearances
Book appearances
Sources
↑ Susan Dominus, "A Girly-Girl Joins the 'Sesame' Boys", The New York Times, 6 August 2006.
↑ Season 12 Press Kit, CTW Archives
Community content is available under
CC-BY-SA
unless otherwise noted.