Music by
Richard A. Whiting
Lyrics by
Johnny Mercer
Date
1937
Source
Hollywood Hotel (movie)
Publisher
Warner Bros. Inc.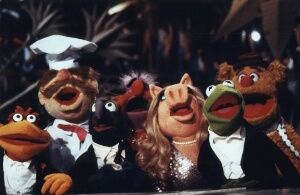 "Hooray for Hollywood" is a classic movie song, which is frequently heard during the Academy Awards ceremony.
It was performed as the opening production number in The Muppets Go Hollywood by Sweetums, Doglion, Timmy Monster, Mean Mama and the Mutations. The songs is reprised at the end of the special by Rowlf, Kermit, Fozzie, Gonzo, Scooter, Floyd, Miss Piggy and the Swedish Chef.
In the 1981 special The Muppets Go to the Movies, Sam the Eagle provides the translation for the Swedish film Silent Strawberries, a spoof of Ingmar Bergman's Wild Strawberries. Sam's attempt to create an enriching cultural experience is foiled when the film's characters, played by Kermit the Frog, Fozzie Bear, the Swedish Chef and Beaker, break into a musical number, singing a mock-Swedish version of "Hooray for Hollywood."
In The Muppets Take the Bowl, Robin and his singing group Croak-A-Pella attempt to perform the song, only to forget the words (substituting them with "ribbit"s).