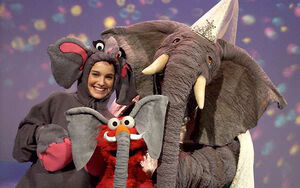 Horatio the Elephant is an easily excitable pachyderm from Sesame Street. He appeared, unnamed, played by various performers including Dave Goelz, Martin P. Robinson, Peter Linz, and David Rudman. He eventually gained his name once Joey Mazzarino became his regular performer.
In 1992, the Elephant sang "The Elephant Elevator Operator", celebrating his job. He filled the entire elevator car, which frustrated the people who wanted to ride in the elevator, but he still enjoyed traveling up and down. This appearance was one of the few Sesame performances by Dave Goelz.
A year later, when Sesame Street went "Around the Corner" for Season 25, the Elephant continued his employment, making recurring appearances as "Otis the Elephant Elevator Operator"[1] in the Furry Arms Hotel. This name was a reference to the Otis Elevator Company.
For years, the Elephant didn't have a specific role on the Street. He regularly appeared as a "spoiler" in various situations, coming through a scene and creating some kind of clumsy havoc. For example, in the punchline of the song "Mr. Between," he appears as "Mr. On Top Of" and crushes the singer. He also appears in Elmopalooza, willing to be a part of the show (even saying he'd work for peanuts). He changes into a curly blonde wig (spoofing Lord of the Dance) and shows off his dancing skills which shakes the theater.
Joey Mazzarino, who was performing the Elephant as early as Episode 3290, played the character with a high, screechy voice borrowed from comedian Bobcat Goldthwait.[2] Eventually, the Elephant acquired a taste for dancing and has occasionally been seen wearing a tutu. One early instance of this is a segment where Big Bird imagines him dancing. (First: Episode 3951)
In Episode 4116, the Elephant came "all the way from Staten Island" to Hooper's Store to be a student at Alan's pretend school, though it was not explicitly stated that he lives there. This episode also revealed the Elephant's limited rhyming abilities, when he attempted to rhyme the words "cat" and "Albuquerque."
While the character has mostly served as a generic elephant, often voiceless, he has been named on occasion. Grover refers to him as "Stevie" in a Global Grover segment first seen in Episode 4033. In the 2004 direct-to-video special A Celebration of Me, Grover, the Elephant says his name is "Frank." By Season 38, he took on a more prominent role and was permanently named "Horatio" by writer Belinda Ward.[2]
The Elephant was originally designed as a large hand puppet. Occasionally, the Elephant's trunk would be controlled with a rod, like a Hand-Rod Muppet. He was later made into a full-bodied costume by adding legs.
Horatio appears briefly in Sesame Street's 50th Anniversary Celebration, addressed by name by host Joseph Gordon-Levitt. The elephant had one speaking line, exclaiming "Joe!". He was puppeteered in this instance by Tyler Bunch and voiced by Peter Linz.[3] Bunch also performed the character (suit and voice) in the cold open for Episode 5020.
He also appears as an audience member in The Not-Too-Late Show with Elmo.
Episodic appearances
AM elephant
unnamed, but with developing characterization
named Horatio
Sketch appearances
The following are sketches in which Horatio, either prior and after his official name was devised, appears in the persona developed by Joey Mazzarino.
Picture
First Appearance
Description

Episode 3951
Kids Talk About Imagining

Big Bird sets up a film of kids talking about imagination while imagining a dancing elephant. The Elephant then claims he's imagining a talking bird.

Episode 3968
Grover and the Elephant

Grover is a jungle photographer. "Hold still, little tsetse fly!" he says as he clicks the shutter. "Thank you. I will send you a print." He tries to find an elephant to photograph, but he never turns around in time. Finally, the elephant takes a picture of Grover for his collection.

Episode 4031
Global Grover: African School

Grover tells the Elephant about schools in Africa.

Episode 4041
The Princess and the Elephant

Natalie Portman and Elmo disagree over who should play the elephant in their make-believe story. They eventually decide to both play elephants, while the Elephant appears as the princess.

Episode 4058
The Spanish Word of the Day: Baila

The Elephant hears music, and wants to dance. Rosita then informs the elephant that baila means "dance."

Episode 4064
The Spanish Word of the Day: Abrazo

Rosita offers her elephant friend un abrazo. The elephant is surprised to learn that abrazo means "hug," but then offers Rosita un abrazo in return.

Episode 4072
"That's Pretending"

The Elephant appears at the tail end of the song, chirping and flapping. He claims he's not an elephant pretending to be a bird, but rather a bird pretending to be an elephant.

Episode 4075
The Spanish Word of the Day: Salta

Rosita tries to see if the Elephant, Narf, and a chicken can figure out that salta is the Spanish word for "jump."

Episode 4088
Action Elephant

Maria is trying to read but she is interrupted by Action Elephant who convinces her to kick her feet with him instead.

Episode 4101
Global Grover: Indian-American Family

Grover attempts to play a game called carrom with the Elephant.

Episode 4108
The Spanish Word of the Day: Pequeño y Granda

Rosita demonstrates pequeño (small) and grande (big) first by showing Slimey, who is pequeño. She then realizes she doesn't have anything grande to show. However, Slimey's friend the elephant, who is grande, comes by. Then, the two leave to go bowling, and Rosita runs after them to join them.

Episode 4141
Elephant Pumpkin

Abby Cadabby thinks of a word that rhymes with milk so she can turn a glass of it into a pumpkin. The spell works, not on the glass of milk, but on The Elephant, who uses his memory to remember what he was before so Abby can change him back little by little.

Episode 4151
Abby's New Friends

Abby Cadabby made three new friends today. Can you guess who they are? One of them clucks, the second one has strings, and the third one loves to dance ...

Episode 4229
Super Grover 2.0: Rockin' the Boat

Super Grover 2.0 figures out how to balance a boat with a lamb and an elephant in it.

Episode 4501
Super Grover 2.0: Balancing Act

Super Grover helps a ground of cheerleading chickens (and elephant) balance for their performance.

Episode 4506
Elmo the Musical: Tomato the Musical

Horatio sings a three-part song about wanting to eat Big Tomato.
Book appearances
Sources
See also
Fluffy, Oscar the Grouch's pet elephant