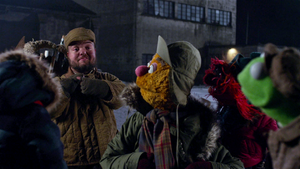 Hornswoggle (born Dylan Postl, 1986) is an American wrestler formerly signed to the WWE and holds the distinction of being the last Cruiserweight Champion before the belt was retired.
Hornswoggle appeared backstage with Miss Piggy on the Halloween episode of WWE Raw in 2011. After showing Piggy his tattoo of her and Kermit, he leans in for a kiss before Piggy counters with a karate chop.
In honor of their appearance on Raw, Hornswoggle added tattoos of Statler and Waldorf, Fozzie Bear and Gonzo to his already existing tats of Kermit the Frog, Beaker and Miss Piggy.
On November 13, 2012, the WWE's YouTube account WWEFanNation uploaded a video, Hornswoggle's Muppet Show and Tell - "Superstar Toyz" - Episode 14, in which Hornswoggle showcases his Muppet merchandise collection.
Billed as "Dylan 'Hornswoggle' Postl," the wrestler has a cameo in Muppets Most Wanted as one of the Russian gulag prisoners.
External links