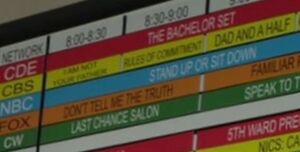 How I Met Your Mother is a CBS sitcom which ran from 2005 until 2014. The series is a recounting of the story of how the main character met his children's mother.
References
The schedule for CBS shown in the CDE's office in The Muppets spoofs the show with "I Am Not Your Father".
Muppet Mentions
In a season five episode, the gang complains about how disgustingly nice Marshall can be to the denizens of New York City as he walks down the street. Barney remarks that there is only one street where people are that nice. "I'll give you a hint: a giant yellow bird lives on it."
In the season 6 episode "Glitter" the gang watches a DVD of the Canadian kid show "Space Teens", in which Robin was one of the hosts, and they start to compare it to porn. Robin defends the show and says that it's no different than The Electric Company or Sesame Street.
In a behind-the-scenes "Making Of" for the first season, Neil Patrick Harris describes the walk he gave to former tree-hugging, hippie Barney ("Game Night") as a "Gobo Fraggle" walk.
Trivia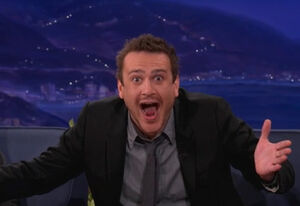 Appearing on Conan to promote The Muppets, Jason Segel explains that Fozzie Bear was his favorite Muppet growing up. "Occasionally on my sitcom, How I Met Your Mother, I do the Wocka Wocka Face when it's a joke I'm not totally comfortable with." Segel then tells a joke, turns to the camera and does a silent Fozzie impression.
Connections
Community content is available under
CC-BY-SA
unless otherwise noted.