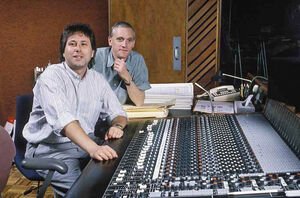 Howard Ashman (1950-1991) was an Academy Award-winning lyricist famous for writing songs for the Disney movies The Little Mermaid, Beauty and the Beast, and Aladdin (all with composer Alan Menken supplying the music). Ashman also wrote the lyrics for the 1982 musical Little Shop of Horrors, which was adapted into a feature film by director Frank Oz in 1986.
Ashman and Menken wrote the song "Wonderful Ways to Say No" for the 1990 animated TV special Cartoon All-Stars to the Rescue. The song was performed by an all-star cast of characters, including the Muppet Babies.
Ashman also co-wrote two songs with Menken for Sesame Street. One was unused on the show, but later found life in an animated short called "Aria for a Cow". Another, "The Count's Lament",[1] was written about Count von Count's inability to pronounce the "w" sound.[2]
References
Sources
External links