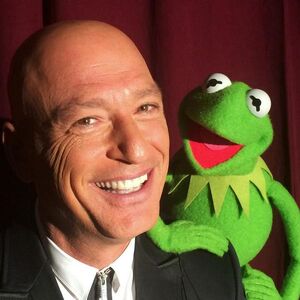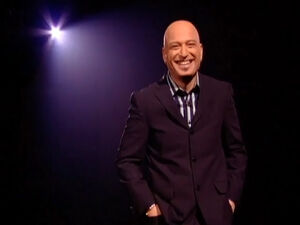 Howie Mandel (b. 1955) is a Canadian comedian and actor who voiced Baby Animal, Skeeter, and Baby Bunsen during the first two seasons of Muppet Babies.
From 2005 until its end in May 2009, Mandel hosted the game show Deal or No Deal, which in December 2006 played host to Big Bird, and in November 2007 to Kermit in cameo appearances.
Mandel also appeared in a Word of the Day segment during Sesame Street Season 38, discussing the word "ticklish." In the same season, Mandel was caricatured as Howie Eatswell in a parody of Deal or No Deal.
In 2010, Mandel became a judge on America's Got Talent, which featured multiple appearances by the Muppets over the years.
Mandel's other TV credits include the role of Dr. Wayne Fiscus on St. Elsewhere for the entire run of the series (1982-1988) and the voices of Bobby and Dad Generic on the animated series Bobby's World, which Mandel created, as well as guest spots on Lois & Clark: The New Adventures of Superman (as Mxyzptlk) and The Outer Limits. Films include Gremlins and Gremlins 2 (as the voice of Gizmo), Blake Edwards' A Fine Mess, Little Monsters, and Tribulation.
External links